Account¶
Virtual Breadboard Account information.
You can use VBB without an account and even work offline for some virtualizations when working with a VBB avatar hardware interface but for the most complete experience working with a subscribed account is recommended.
There are two accounts used by Virtual Breadboard.
Microsoft Account¶
The Microsoft Account is your regular Windows login account. If you purchase a subscription from the Microsoft Store the subscription information is linked to your Microsoft account. VBB has access to this purchase information and will update your status according to the remaining days left on the current subscription period.

The Microsoft Account is the default account. Using this account is automatic and doesn't require you to register with Virtual Breadboard. We we have no access to your email accounts or other information. The only information we access is your subscription status.
Virtual Breadboard Account¶
The Virtual Breadboard account is linked to the https://virtualbreadboard.io Developer Portal account. There are various additional services under development which are access by the developer portal. These are pre-release experimental services which may work with some versions of VBB but then break in others but ultimately they will all work.
Alexa - supports a web test interface to published Alexa configurations which connect with the VBB Amazon Skill.

CDK - supports managment of your published components developed using the CDK.

FAB - tracking of purchases of printed circuit boards designed and published in VBB.

Licenses - tracking of licenses purchased through the developer portal.

Newsletter - opt-in to the newsletter.
The VBB account has also provided an upgrade path for existing users of the older version of VBB to transfer their license toward a subscription without having to buy from microsoft. Also other license types such as site-licenses, evaluations, special offers and coupons are possible using the Virtual Breadboard account.
Of course we do hold your email address require a password login which is an extra step.
Account login¶
Click the account button to open the account login dialog. You first need to create an account at the developer portal (https://virtualbreadboard.io). You can then login using the same credentials.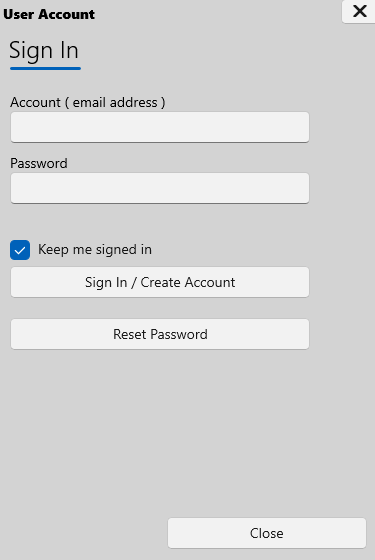 When logged-in using the Virtual Breadboard account you will see your name from your developer account rather than the generic Microsoft Store.

The number of days of your subscription is either your VBB account subscription or you Microsoft Store account subscription. So you can be logged in as a Virtual Breadboard developer account to access the online services but use the Microsoft Store account for subscription purchases.